Witness Wheel To Wheel, Door To Door Action
.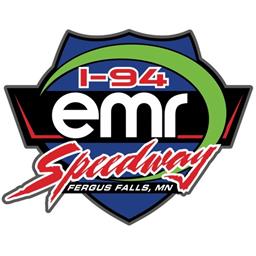 9/16/2023 - I-94 Speedway
Fergus Falls, MN
Speedway Motors WISSOTA 100 Champion Night
2:30 Mandatory Drivers Meeting - All Drivers must attend, We will draw for the last 3 positions in each class from all non qualifiers present at Saturdays drivers meeting. All cars qualifying by racing their way into the feature will start in front of the 18 drawn.
5:00 National Anthem
Last Chance races 1 race per class, 16 cars, 6 transfer to the feature. Late Model Last Chance top 10 to Main Feature Rows 8 thru 10
LCR Street Stocks
LCR Midwest Modified
LCR Late Model
Hot Laps for all cars that are in the main event tonight, Be lined up and ready to go
LCR Super Stock
LCR Modified
Parade of Champions for all Drivers in the Main Feature
Feature
Streets Stocks
Midwest Modified
Late Model
Super Stock
Modified
WISSOTA Street Stock

66 entries

WISSOTA Midwest Mods

75 entries

WISSOTA Late Model

45 entries

WISSOTA Super Stock

47 entries

WISSOTA Modifieds

45 entries
Full Event Information on MyRacePass
WISSOTA Street Stock
30 Laps
W100 Street Stock FeatureSpeedway Motors
Finish
Start
#
Competitor
Hometown
+/-
1
3
51
Eric Riley Morris, MN
Morris, MN
2
2
4
16X
Kyle Genett Auburndale, WI
Auburndale, WI
2
3
2
21
Jim Gullikson Nowthen, MN
Nowthen, MN
-1
4
14
10
Justin Vogel Brooten, MN
Brooten, MN
10
5
5
11D
Kyle Dykhoff Starbuck, MN
Starbuck, MN
-
6
19
12
Cody Kummer Medford, WI
Medford, WI
13
7
7
79
Jeff Nowak Angelton, TX
Angelton, TX
-
8
16
54
Geoff Hellman Mandan, ND
Mandan, ND
8
9
6
14
Maria Broksieck Goodwin, SD
Goodwin, SD
-3
10
21
26
Ty Agen Chippewa Falls, WI
Chippewa Falls, WI
11
11
10
69J
Tim Johnson Brainerd, MN
Brainerd, MN
-1
12
8
40
Nick Traynor Barron, WI
Barron, WI
-4
13
23
9K
Kolby Kiehl Barron, WI
Barron, WI
10
14
13
01
Tommy Pogones Princeton, MN
Princeton, MN
-1
15
33
4H
Trey Hess Grand Forks, ND
Grand Forks, ND
18
16
11
27P
Tucker Pederson East Grand Forks, MN
East Grand Forks, MN
-5
17
17
25
Mike Jans Clarkfield, MN
Clarkfield, MN
-
18
20
2K
Tyler Klugman Wheaton, MN
Wheaton, MN
2
19
22
19G
Cole Greseth Harwood, ND
Harwood, ND
3
20
9
11
Levi Randt Siren, WI
Siren, WI
-11
21
27
1S
Scott Bintz Jamestown, ND
Jamestown, ND
6
22
28
71
Josh Long Canby, MN
Canby, MN
6
23
30
44
Dylan Arndt Morris, MN
Morris, MN
7
24 DNF
1
20H
Andrew Hanson Iron River, WI
Iron River, WI
-23
25 DNF
12
59
Kyle Anderson Jamestown, ND
Jamestown, ND
-13
26 DNF
29
2U
Kasey Ussatis Nome, ND
Nome, ND
3
27 DNF
25
34JR
Braden Brauer Eyota, MN
Eyota, MN
-2
28 DNF
26
980
Kaden Woodie Milaca, MN
Milaca, MN
-2
29 DNF
15
15F
Zachary Flickinger Madison, MN
Madison, MN
-14
30 DNF
18
22T
Troy Murner Rapid City, SD
Rapid City, SD
-12
31 DNF
32
77
Daniel Harstad Fergus Falls, MN
Fergus Falls, MN
1
32 DNF
24
19
Cole Kannegiesser Hancock, MN
Hancock, MN
-8
33 DNF
31
KOL34
Kolton Brauer Eyota, MN
Eyota, MN
-2
15 Laps
Last Chance RaceSpeedway Motors
Finish
Start
#
Competitor
Hometown
+/-
1
1
34JR
Braden Brauer Eyota, MN
Eyota, MN
-
2
13
980
Kaden Woodie Milaca, MN
Milaca, MN
11
3
6
1S
Scott Bintz Jamestown, ND
Jamestown, ND
3
4
2
71
Josh Long Canby, MN
Canby, MN
-2
5
4
2U
Kasey Ussatis Nome, ND
Nome, ND
-1
6
15
44
Dylan Arndt Morris, MN
Morris, MN
9
Top 6 transfer
7
11
17A
Jacob Aarhus Canby, MN
Canby, MN
4
8
8
I7
Ethan Iiams Kandiyohi, MN
Kandiyohi, MN
-
9
9
82JR
Sophie Anderson Chokio, MN
Chokio, MN
-
10 DNF
14
05
Kyle Howland Zimmerman, MN
Zimmerman, MN
4
11 DNF
16
20JR
Jayden Bogh Huron, SD
Huron, SD
5
12 DNF
12
27J
Jordan Johnson Jamestown, ND
Jamestown, ND
-
13 DNF
17
17
Nick Shumansky Perham, MN
Perham, MN
4
14 DNF
10
2*
Dustin Schultz Marshall, MN
Marshall, MN
-4
15 DNF
7
22B
Ethan Beckler Granite Falls, MN
Granite Falls, MN
-8
16 DNF
5
16S
Spencer Johnson Jamestown, ND
Jamestown, ND
-11
17 DNF
3
10T
Darek Turner Fargo, ND
Fargo, ND
-14
WISSOTA Midwest Mods
35 Laps
W100 Midwest Modified FeatureSpeedway Motors
Finish
Start
#
Competitor
Hometown
+/-
1
3
28W
Brennon Weight LaMoure, ND
LaMoure, ND
2
2
1
2S
Matt Schow McIntosh, MN
McIntosh, MN
-1
3
9
42X
Travis Saurer Elizabeth, MN
Elizabeth, MN
6
4
6
19R
Lucas Rodin Marion, ND
Marion, ND
2
5
8
18
Tony Leiker Gillette, WY
Gillette, WY
3
6
11
17B
Zach Benson Princeton, MN
Princeton, MN
5
7
15
67
Mike Nichols Watertown, SD
Watertown, SD
8
8
2
40D
Blake Adams Cameron, WI
Cameron, WI
-6
9
14
42TB
Tanner Bitzan Brandon, MN
Brandon, MN
5
10
7
50H
Haley Lee Starbuck, MN
Starbuck, MN
-3
11
10
34J
Derek Rieck Ortonville, MN
Ortonville, MN
-1
12
16
1S
Scott Bintz Jamestown, ND
Jamestown, ND
4
13
17
69
Justin Jones Bemidji, MN
Bemidji, MN
4
14
13
12X
Jamie Norman Battle Lake, MN
Battle Lake, MN
-1
15
18
66
Kyle Langland Enderlin, ND
Enderlin, ND
3
16
21
71
Nate Reinke Lisbon, ND
Lisbon, ND
5
17
22
24TB
Taylor Bitzan Brandon, MN
Brandon, MN
5
18
30
16
Garrett Paull Fort Frances, ON
Fort Frances, ON
12
19
28
10
Justin VanEps Kandiyohi, MN
Kandiyohi, MN
9
20
33
24
Cole Elton Dalbo, MN
Dalbo, MN
13
21
26
22Z
Zach Reinke Lisbon, ND
Lisbon, ND
5
22
32
94R
Ryan Nash Billings, MT
Billings, MT
10
23 DNF
25
9M
Jake Molitor Saint Cloud, MN
Saint Cloud, MN
2
24 DNF
5
57
Corey Storck Morris, MN
Morris, MN
-19
25 DNF
20
11R
Landyn Randt Siren, WI
Siren, WI
-5
26 DNF
12
3S
Travis Schulte Becker, MN
Becker, MN
-14
27 DNF
19
69R
Terry Reilly Watertown, SD
Watertown, SD
-8
28 DNF
4
60
Dan Ebert Lake Shore, MN
Lake Shore, MN
-24
29 DNF
24
19X
James Trantina III St. Joseph, MN
St. Joseph, MN
-5
30 DNF
31
4B
Arin Beyer Jamestown, ND
Jamestown, ND
1
31 DNF
27
28
Tommy Nichols Watertown, SD
Watertown, SD
-4
32 DNF
23
27
Corey Mehrwerth St. Stephen, MN
St. Stephen, MN
-9
33 DNF
29
L1
Shane Howell Buffalo, MN
Buffalo, MN
-4
15 Laps
Last Chance RaceSpeedway Motors
Finish
Start
#
Competitor
Hometown
+/-
1
4
9M
Jake Molitor Saint Cloud, MN
Saint Cloud, MN
3
2
1
22Z
Zach Reinke Lisbon, ND
Lisbon, ND
-1
3
2
28
Tommy Nichols Watertown, SD
Watertown, SD
-1
4
5
10
Justin VanEps Kandiyohi, MN
Kandiyohi, MN
1
5
8
L1
Shane Howell Buffalo, MN
Buffalo, MN
3
6
16
16
Garrett Paull Fort Frances, ON
Fort Frances, ON
10
Top 6 transfer
7
9
87S
Reise Stenberg Argusville, ND
Argusville, ND
2
8
3
33
Jake Hagemann Little Falls, MN
Little Falls, MN
-5
9
7
13O
Scott Oeltjen Villard, MN
Villard, MN
-2
10
11
19
Darrin Lawler Grand Rapids, MN
Grand Rapids, MN
1
11
14
81K
Casey Knabe Kensington, MN
Kensington, MN
3
12 DNF
10
28T
Scott Tofte Madison, MN
Madison, MN
-2
13 DNF
12
32M
Jeremy Meirhofer Belgrade, MT
Belgrade, MT
-1
14 DNF
13
11S
Darren Engesser Gary, SD
Gary, SD
-1
15 DNF
6
22
Matt Heinzerling Spearfish, SD
Spearfish, SD
-9
DNS
15
23DD
George Dalbeck Wakefield, MI
Wakefield, MI
-
WISSOTA Late Model
50 Laps
W100 Late Model FeatureSpeedway Motors
Finish
Start
#
Competitor
Hometown
+/-
1
1
1TPO
Tyler Peterson Hickson, ND
Hickson, ND
-
2
3
10
Cole Searing Huron, SD
Huron, SD
1
3
2
42S
Cody Overton Thomson, GA
Thomson, GA
-1
4
4
27
Jake Redetzke Menomonie, WI
Menomonie, WI
-
5
11
15*
Ryan Mikkelson Alexandria, MN
Alexandria, MN
6
6
6
11
Pat Doar New Richmond, WI
New Richmond, WI
-
7
5
5E
Shane Edginton East St. Paul, MB
East St. Paul, MB
-2
8
17
30
Kevin Burdick Proctor, MN
Proctor, MN
9
9
10
85
Jayson Good Watertown, SD
Watertown, SD
1
10
27
28
Jeff Provinzino Hibbing, MN
Hibbing, MN
17
11
13
5
Josh Zimpel Braham, MN
Braham, MN
2
12
7
71X
Cory Tammen Wolverton, MN
Wolverton, MN
-5
13
23
18X
Shawn Meyer Wahpeton, ND
Wahpeton, ND
10
14 DNF
14
23
Matt Gilbertson Montevideo, MN
Montevideo, MN
-
15 DNF
9
6M
Jeff Massingill Keewatin, MN
Keewatin, MN
-6
16 DNF
31
24M
Cody Martin Mitchell, SD
Mitchell, SD
15
17 DNF
16
2
Dave Mass East Bethel, MN
East Bethel, MN
-1
18 DNF
30
E85
Jason Strand Portland, ND
Portland, ND
12
19 DNF
20
31
Travis Budisalovich Minneapolis, MN
Minneapolis, MN
1
20 DNF
18
17G
Mike Greseth Harwood, ND
Harwood, ND
-2
21 DNF
8
21S
John Seng Grand Forks, ND
Grand Forks, ND
-13
22 DNF
21
47
Danny Vang Deerwood, MN
Deerwood, MN
-1
23 DNF
26
21X
Dustin Arthur St. Lawrence, SD
St. Lawrence, SD
3
24 DNF
15
32
Jon Tollakson Montevideo, MN
Montevideo, MN
-9
25 DNF
29
28S
Sam Mars Menomonie, WI
Menomonie, WI
4
26 DNF
33
18R
Josh Rieck Fergus Falls, MN
Fergus Falls, MN
7
27 DNF
24
18
Chase Gelling Aberdeen, SD
Aberdeen, SD
-3
28 DNF
12
1-2
Bryce Sward Nelson, MN
Nelson, MN
-16
29 DNF
32
3M
Greg Meyer Wahpeton, ND
Wahpeton, ND
3
30 DNF
19
45
Dustin Bluhm Kindred, ND
Kindred, ND
-11
31 DNF
22
12B
Chad Becker Aberdeen, SD
Aberdeen, SD
-9
32 DNF
25
28D
Dustin Sorensen Rochester, MN
Rochester, MN
-7
33 DNF
28
01
Michael Leach Sun River, MT
Sun River, MT
-5
15 Laps
Last Chance Race #1Speedway Motors
Finish
Start
#
Competitor
Hometown
+/-
1
2
47
Danny Vang Deerwood, MN
Deerwood, MN
1
2
3
18X
Shawn Meyer Wahpeton, ND
Wahpeton, ND
1
3
4
28D
Dustin Sorensen Rochester, MN
Rochester, MN
1
4
1
28
Jeff Provinzino Hibbing, MN
Hibbing, MN
-3
5
5
28S
Sam Mars Menomonie, WI
Menomonie, WI
-
Top 5 transfer
6
8
7S
Sam Zender Fergus Falls, MN
Fergus Falls, MN
2
7
9
24
Mike Hart Dent, MN
Dent, MN
2
8 DNF
6
32T
Jordan Tollakson Montevideo, MN
Montevideo, MN
-2
9 DNF
7
1QT
Brian Diede Huron, SD
Huron, SD
-2
10 DNF
10
42
Don Shaw Ham Lake, MN
Ham Lake, MN
-
15 Laps
Last Chance Race #2Speedway Motors
Finish
Start
#
Competitor
Hometown
+/-
1
5
12B
Chad Becker Aberdeen, SD
Aberdeen, SD
4
2
2
18
Chase Gelling Aberdeen, SD
Aberdeen, SD
-
3
4
21X
Dustin Arthur St. Lawrence, SD
St. Lawrence, SD
1
4
1
01
Michael Leach Sun River, MT
Sun River, MT
-3
5
9
E85
Jason Strand Portland, ND
Portland, ND
4
Top 5 transfer
6
3
21F
Gunner Frank Montrose, IA
Montrose, IA
-3
7
8
10X
Robert Bitz Aberdeen, SD
Aberdeen, SD
1
8 DNF
7
21
Todd Frank Montrose, IA
Montrose, IA
-1
9 DNF
6
50
Ben Wolden Fergus Falls, MN
Fergus Falls, MN
-3
DNS
10
10K
Shawn Kirwin Morris, MN
Morris, MN
-
WISSOTA Super Stock
40 Laps
W100 Super Stock FeatureSpeedway Motors
Finish
Start
#
Competitor
Hometown
+/-
1
6
25
Dylan Nelson Merrifield, MN
Merrifield, MN
5
2
19
81
Tim Johnson Brainerd, MN
Brainerd, MN
17
3
3
78K
Dexton Koch Becker, MN
Becker, MN
-
4
7
11A
Jordan Henkemeyer Sauk Rapids, MN
Sauk Rapids, MN
3
5
15
0
Dave Mass East Bethel, MN
East Bethel, MN
10
6
2
71
Trevor Nelson Warner, SD
Warner, SD
-4
7
5
44
Maxwell Dondelinger Grand Rapids, MN
Grand Rapids, MN
-2
8
25
2
Denis Czech Gilman, MN
Gilman, MN
17
9
1
19X
James Trantina III St. Joseph, MN
St. Joseph, MN
-8
10
4
54
William Lund Brandon, MN
Brandon, MN
-6
11
13
46
Dustin Nelson Ogilvie, MN
Ogilvie, MN
2
12
33
L1
Andrew Johnson Brainerd, MN
Brainerd, MN
21
13
23
1
Karter Reents Glenwood, MN
Glenwood, MN
10
14
18
33
Austin Niemeyer Brainerd, MN
Brainerd, MN
4
15
20
99
Shawn Fernkes Pennock, MN
Pennock, MN
5
16
32
3M
Bailey Rosch Alexandria, MN
Alexandria, MN
16
17
24
19H
Brayden Hedtke Atwater, MN
Atwater, MN
7
18
29
12
Cody Kummer Medford, WI
Medford, WI
11
19
28
76
Doug Koski Chisholm, MN
Chisholm, MN
9
20
30
57
Dalton Carlson Cohasset, MN
Cohasset, MN
10
21
31
5*
Andrew Hedtke Grove City, MN
Grove City, MN
10
22 DNF
8
511
Zach Schultz Grove City, MN
Grove City, MN
-14
23 DNF
16
17
Ryan Kostreba Elk River, MN
Elk River, MN
-7
24 DNF
22
14
Russell Kostreba Zimmerman, MN
Zimmerman, MN
-2
25 DNF
14
17J
Matt Johnson Aberdeen, SD
Aberdeen, SD
-11
26 DNF
11
67X
Ryan Satter Dent, MN
Dent, MN
-15
27 DNF
26
71X
Travis Scott Montevideo, MN
Montevideo, MN
-1
28 DNF
9
1M
Curt Myers Cameron, WI
Cameron, WI
-19
29 DNF
17
32M
Jeremy Meirhofer Belgrade, MT
Belgrade, MT
-12
30 DNF
27
81X
Matt Sparby Bemidji, MN
Bemidji, MN
-3
31 DNF
12
7A
Shane Sabraski Rice, MN
Rice, MN
-19
32 DNF
10
19
Tristan LaBarge Kelly Lake, MN
Kelly Lake, MN
-22
33 DNF
21
21
Trevor Saurer Dalton, MN
Dalton, MN
-12
15 Laps
Last Chance RaceSpeedway Motors
Finish
Start
#
Competitor
Hometown
+/-
1
5
2
Denis Czech Gilman, MN
Gilman, MN
4
2
1
71X
Travis Scott Montevideo, MN
Montevideo, MN
-1
3
9
81X
Matt Sparby Bemidji, MN
Bemidji, MN
6
4
7
76
Doug Koski Chisholm, MN
Chisholm, MN
3
5
8
12
Cody Kummer Medford, WI
Medford, WI
3
6
13
57
Dalton Carlson Cohasset, MN
Cohasset, MN
7
Top 6 transfer
7
16
14J
Jayden Friauf Willmar, MN
Willmar, MN
9
8
15
13M
Matt Miller Glenwood, MN
Glenwood, MN
7
9 DNF
3
2G
Nathan Grehl Hitchcock, SD
Hitchcock, SD
-6
10 DNF
10
79M
Josh Roggatz Montevideo, MN
Montevideo, MN
-
11 DNF
2
67S
Casey Steffenson Great Falls, MT
Great Falls, MT
-9
12 DNF
11
71T
Justin Tammen Clara City, MN
Clara City, MN
-1
13 DNF
14
2F
Jeffrey Frey Ogilvie, MN
Ogilvie, MN
1
14 DNF
12
67
Austin Arbogast Huron, SD
Huron, SD
-2
15 DNF
4
77
Carson Miller Carlos, MN
Carlos, MN
-11
16 DNF
6
9K
Kolby Kiehl Barron, WI
Barron, WI
-10
WISSOTA Modifieds
40 Laps
W100 Modified FeatureSpeedway Motors
Finish
Start
#
Competitor
Hometown
+/-
1
5
1TPO
Tyler Peterson Hickson, ND
Hickson, ND
4
2
4
2C
Dave Cain Corcoran, MN
Corcoran, MN
2
3
6
2J
Blake Jegtvig Hawley, MN
Hawley, MN
3
4
14
18A
Landon Atkinson Little Falls, MN
Little Falls, MN
10
5
1
60
Dan Ebert Lake Shore, MN
Lake Shore, MN
-4
6
11
12D
Mike Stearns Aberdeen, SD
Aberdeen, SD
5
7
12
45J
Johnny Broking Grand Rapids, MN
Grand Rapids, MN
5
8
8
33X
Justin Froemming Alexandria, MN
Alexandria, MN
-
9
16
10X
Dustin Bitzan Brandon, MN
Brandon, MN
7
10
26
6ST
Joseph Thomas Fargo, ND
Fargo, ND
16
11
21
52
Jason Thoennes Garfield, MN
Garfield, MN
10
12
24
9B
Brendan Blascyk Hoffman, MN
Hoffman, MN
12
13
15
21X
Travis Saurer Elizabeth, MN
Elizabeth, MN
2
14
33
6
Dale Ames Huron, SD
Huron, SD
19
15
23
10H
Nate Heinrich BELLINGHAM, MN
BELLINGHAM, MN
8
16
30
15
Ryan Flaten Madison, MN
Madison, MN
14
17
29
97
Cole Anderson Le Center, MN
Le Center, MN
12
18
28
2G
Brock Gronwold Fergus Falls, MN
Fergus Falls, MN
10
19
22
6*
Brian Haben Appleton, MN
Appleton, MN
3
20
19
5H
Brett Hoium Villard, MN
Villard, MN
-1
21
31
15X
Blake Boelens Brandon, MN
Brandon, MN
10
22 DNF
2
9E
Don Eischens Richmond, MN
Richmond, MN
-20
23 DNF
25
77R
Ryan Schroeder Devils Lake, ND
Devils Lake, ND
2
24 DNF
10
6X
Zach Johnson Lowry, MN
Lowry, MN
-14
25 DNF
13
22
Brandon Copp Brule, WI
Brule, WI
-12
26 DNF
3
40
Kevin Adams Cameron, WI
Cameron, WI
-23
27 DNF
18
7A
Shane Sabraski Rice, MN
Rice, MN
-9
28 DNF
27
4J
Lee Grosz Watertown, SD
Watertown, SD
-1
29 DNF
7
27
Parker Anderson Phillips, WI
Phillips, WI
-22
30 DNF
9
2X
Brady Gerdes Villard, MN
Villard, MN
-21
31 DNF
17
11X
Jake Timm Winona, MN
Winona, MN
-14
32 DNF
20
18S
Kennedy Swan Chippewa Falls, WI
Chippewa Falls, WI
-12
33 DNF
32
40F
John Farrington Akeley, MN
Akeley, MN
-1
15 Laps
Last Chance RaceSpeedway Motors
Finish
Start
#
Competitor
Hometown
+/-
1
2
77R
Ryan Schroeder Devils Lake, ND
Devils Lake, ND
1
2
1
6ST
Joseph Thomas Fargo, ND
Fargo, ND
-1
3
5
4J
Lee Grosz Watertown, SD
Watertown, SD
2
4
4
2G
Brock Gronwold Fergus Falls, MN
Fergus Falls, MN
-
5
3
97
Cole Anderson Le Center, MN
Le Center, MN
-2
6
6
15
Ryan Flaten Madison, MN
Madison, MN
-
Top 6 transfer
7
8
66
Jacob Knapper Montevideo, MN
Montevideo, MN
1
8
14
51A
Avery Anderson Alexandria, MN
Alexandria, MN
6
9
7
22T
Michael Truscott Chippewa Falls, WI
Chippewa Falls, WI
-2
10
11
5X
Dan Pederson Underwood, MN
Underwood, MN
1
11
13
33
Jeff Nelson Perham, MN
Perham, MN
2
12
9
91
Gerald Thorstad Cyrus, MN
Cyrus, MN
-3
13
15
57
Michael Tiani Middle River, MN
Middle River, MN
2
14 DNF
12
88XXX
Randy Klein Buffalo, ND
Buffalo, ND
-2
15 DNF
10
22B
Josh Beaulieu Bemidji, MN
Bemidji, MN
-5
16 DNF
16
9
John Carpenter Hibbing, MN
Hibbing, MN
-