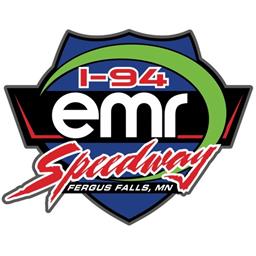 9/14/2021 - I-94 Speedway
Fergus Falls, MN
WISSOTA 100
Time and orders are subject to change:
*1:00 pm Pit Gates Open
*3:00 pm Draw Open for Hornets and Pure Stocks
*5:00 pm Pit Meeting
*5:15 pm Track Packing
*5:30 pm Draw Cut off Pure Stocks and Hornets Only
*6:00 pm Open Practice
*7:00 pm Wissota Hornets and Wissota Pure Stocks Heat Races (8 laps)
*Features will line up using passing points for the Hornets and Pures. Top 6 in passing points will redraw for the op 6 positions in the feature.
*Pre-Race inspection will take pale for the cars in attendance for the open practice to help alleviate the rush on Wednesday.
*All parties are expected to act responsibly at all times on and off the track. *Only one car per driver per class allowed.
WISSOTA Hornet

28 entries

WISSOTA Pure Stock

11 entries
Full Event Information on MyRacePass
WISSOTA Hornet
20 Laps
W100 Hornet FeatureSpeedway Motors
Finish
Start
#
Competitor
Hometown
+/-
1
6
11
Casey Stremick Harwood, ND
Harwood, ND
5
2
22
27
Devin Goulet Fargo, ND
Fargo, ND
20
3
8
01
Nathan Kohl Fort Ripley, MN
Fort Ripley, MN
5
4
10
5AR
Adam VanDerostyne Canby, MN
Canby, MN
6
5
15
26
Jenna Hagemann Fort Ripley, MN
Fort Ripley, MN
10
6
7
7
Peter Martin Willmar, MN
Willmar, MN
1
7
17
23T
Anthony Jenson Milaca, MN
Milaca, MN
10
8
18
18W
David Wahl Fergus Falls, MN
Fergus Falls, MN
10
9
4
32
Brady Hagen Montevideo, MN
Montevideo, MN
-5
10
13
21
Zach Kort Fergus Falls, MN
Fergus Falls, MN
3
11
16
12
Brent Engler Barrett, MN
Barrett, MN
5
12
19
7Z
Madison Schreiber Dalton, MN
Dalton, MN
7
13
23
13
Curtis Huseth Underwood, MN
Underwood, MN
10
14
28
52
Maddie Swenson Alexandria, MN
Alexandria, MN
14
15
26
25T
Kyle Tirrel Toronto, SD
Toronto, SD
11
16
20
33H
Jacob Hagen Elbow Lake, MN
Elbow Lake, MN
4
17 DNF
2
17A
Jacob Aarhus Canby, MN
Canby, MN
-15
18 DNF
11
50M
Brady Molter Rothsay, MN
Rothsay, MN
-7
19 DNF
3
27R
Matt Pederson Lake Park, MN
Lake Park, MN
-16
20 DNF
1
14
Justin Schelitzche Waconia, MN
Waconia, MN
-19
21 DNF
12
81
Nathan Smith Watertown, SD
Watertown, SD
-9
22 DNF
14
27M
Katelyn Warner Starbuck, MN
Starbuck, MN
-8
23 DNF
25
17
Dylan Tirrel Toronto, SD
Toronto, SD
2
24 DNF
24
7S
Jerik Stabler Ethan, SD
Ethan, SD
-
25 DNF
21
42A
Kevin Stock Fergus Falls, MN
Fergus Falls, MN
-4
DNS
27
84
Doug Martin Willmar, MN
Willmar, MN
-
DQ
9
W100
Joe Martin Willmar, MN
Willmar, MN
-
DQ
5
22
Matthew Dittman Lake Lillian, MN
Lake Lillian, MN
-
8 Laps
W100 Hornet Heat 1Speedway Motors
Finish
Start
#
Competitor
Hometown
+/-
1
2
17A
Jacob Aarhus Canby, MN
Canby, MN
1
2
1
7
Peter Martin Willmar, MN
Willmar, MN
-1
3
9
32
Brady Hagen Montevideo, MN
Montevideo, MN
6
4
8
01
Nathan Kohl Fort Ripley, MN
Fort Ripley, MN
4
5
7
21
Zach Kort Fergus Falls, MN
Fergus Falls, MN
2
6
3
23T
Anthony Jenson Milaca, MN
Milaca, MN
-3
7
6
42A
Kevin Stock Fergus Falls, MN
Fergus Falls, MN
-1
DNS
10
7S
Jerik Stabler Ethan, SD
Ethan, SD
-
DNS
5
17
Dylan Tirrel Toronto, SD
Toronto, SD
-
DQ
4
84
Doug Martin Willmar, MN
Willmar, MN
-
8 Laps
W100 Hornet Heat 2Speedway Motors
Finish
Start
#
Competitor
Hometown
+/-
1
8
22
Matthew Dittman Lake Lillian, MN
Lake Lillian, MN
7
2
9
14
Justin Schelitzche Waconia, MN
Waconia, MN
7
3
4
5AR
Adam VanDerostyne Canby, MN
Canby, MN
1
4
3
81
Nathan Smith Watertown, SD
Watertown, SD
-1
5
7
27M
Katelyn Warner Starbuck, MN
Starbuck, MN
2
6
1
12
Brent Engler Barrett, MN
Barrett, MN
-5
7
5
33H
Jacob Hagen Elbow Lake, MN
Elbow Lake, MN
-2
8 DNF
6
13
Curtis Huseth Underwood, MN
Underwood, MN
-2
DQ
2
25T
Kyle Tirrel Toronto, SD
Toronto, SD
-
8 Laps
W100 Hornet Heat 3Speedway Motors
Finish
Start
#
Competitor
Hometown
+/-
1
4
27R
Matt Pederson Lake Park, MN
Lake Park, MN
3
2
3
11
Casey Stremick Harwood, ND
Harwood, ND
1
3
2
50M
Brady Molter Rothsay, MN
Rothsay, MN
-1
4
8
W100
Joe Martin Willmar, MN
Willmar, MN
4
5
6
26
Jenna Hagemann Fort Ripley, MN
Fort Ripley, MN
1
6
5
18W
David Wahl Fergus Falls, MN
Fergus Falls, MN
-1
7
1
7Z
Madison Schreiber Dalton, MN
Dalton, MN
-6
8
7
27
Devin Goulet Fargo, ND
Fargo, ND
-1
9
9
52
Maddie Swenson Alexandria, MN
Alexandria, MN
-
WISSOTA Pure Stock
20 Laps
W100 Pure Stock FeatureSpeedway Motors
Finish
Start
#
Competitor
Hometown
+/-
1
1
16
Cory Jorgensen Duluth, MN
Duluth, MN
-
2
3
66R
Michael Roth Grand Rapids, MN
Grand Rapids, MN
1
3
2
72
Kevin Baumgarner Deer River, MN
Deer River, MN
-1
4
8
57
Austin Carlson Cohasset, MN
Cohasset, MN
4
5
7
17
Aaron Bernick Duluth, MN
Duluth, MN
2
6
9
89F
Bonnie Farrington Akeley, MN
Akeley, MN
3
7 DNF
6
24F
John Farrington Akeley, MN
Akeley, MN
-1
8 DNF
5
35B
Josh Berg Bemidji, MN
Bemidji, MN
-3
9 DNF
10
1
Ryan Olson Ladysmith, WI
Ladysmith, WI
1
10 DNF
4
66
Max Prusak Hopkins, MN
Hopkins, MN
-6
DNS
11
3
Guy Gaskill Duluth, MN
Duluth, MN
-
8 Laps
W100 Pure Stock Heat 1Speedway Motors
Finish
Start
#
Competitor
Hometown
+/-
1
4
66R
Michael Roth Grand Rapids, MN
Grand Rapids, MN
3
2
2
72
Kevin Baumgarner Deer River, MN
Deer River, MN
-
3
1
24F
John Farrington Akeley, MN
Akeley, MN
-2
4
3
17
Aaron Bernick Duluth, MN
Duluth, MN
-1
5
6
89F
Bonnie Farrington Akeley, MN
Akeley, MN
1
6
5
3
Guy Gaskill Duluth, MN
Duluth, MN
-1
8 Laps
W100 Pure Stock Heat 2Speedway Motors
Finish
Start
#
Competitor
Hometown
+/-
1
1
66
Max Prusak Hopkins, MN
Hopkins, MN
-
2
3
35B
Josh Berg Bemidji, MN
Bemidji, MN
1
3
5
16
Cory Jorgensen Duluth, MN
Duluth, MN
2
4
4
57
Austin Carlson Cohasset, MN
Cohasset, MN
-
5
2
1
Ryan Olson Ladysmith, WI
Ladysmith, WI
-3