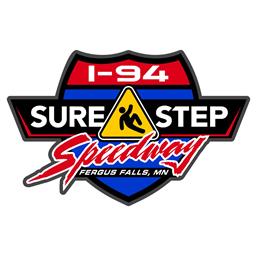 9/14/2019 - I-94 Speedway
Fergus Falls, MN
Wissota 100
Wissota 100 Schedule of Events
12:00 Pit Gates Open
1:00 Mandatory Pit Meeting - ALL DRIVERS MUST ATTEND!
2:55 National Anthem 1st races must be lined up and ready to go.
Streets, Supers, Modified & Late Models will have (2) 12 lap last chance races, MWM will get 3 12 lap last chance races, Mod 4 will get one 10 lap last chance races. The races will have a time limit of 12 minutes. Each last chance race will have 16 car in it. The top 3 in each feature will transfer to the main event. Finial 3 starting spots for main event will be drawn at the drivers meeting.
PARADE OF CHAMPIONS
Features
Streets 25 laps
Mod Fours 20 laps
Midwest Modified 25 laps
Late Models 40 laps
Super Stock 30 laps
Modified 30 laps
AFCO ROC Races following Main Events will run in the same order as the Main Features.
SCHEDULE SUBJECT TO CHANGE
WISSOTA Late Model

53 entries

WISSOTA Midwest Mods

94 entries

WISSOTA Mod Four

33 entries

WISSOTA Modifieds

57 entries

WISSOTA Street Stock

62 entries

WISSOTA Super Stock

60 entries
Full Event Information on MyRacePass
WISSOTA Late Model
40 Laps
Wissota 100 Main FeatureSpeedway Motors
Finish
Start
#
Competitor
Hometown
+/-
1
2
12
Chad Becker Aberdeen, SD
Aberdeen, SD
1
2
1
18A
Landon Atkinson Little Falls, MN
Little Falls, MN
-1
3
4
50
Jeff Wildung Nassau, MN
Nassau, MN
1
4
8
27
Jake Redetzke Menomonie, WI
Menomonie, WI
4
5
10
4
Shane Edginton East St. Paul, MB
East St. Paul, MB
5
6
3
10B
Mike Balcaen Winnipeg, MB
Winnipeg, MB
-3
7
6
42M
Dave Mass East Bethel, MN
East Bethel, MN
-1
8
12
6M
Jeff Massingill Keewatin, MN
Keewatin, MN
4
9
15
85
John Kaanta Elk Mound, WI
Elk Mound, WI
6
10
24
76
Blair Nothdurft Renner, SD
Renner, SD
14
11
11
57
Chad Williamson Watertown, SD
Watertown, SD
-
12
5
44
Cole Schill Hawley, MN
Hawley, MN
-7
13
19
06
David Smith Parkland County, AB
Parkland County, AB
6
14
21
86
Matthew Smith Leduc, AB
Leduc, AB
7
15
13
50W
Ben Wolden Fergus Falls, MN
Fergus Falls, MN
-2
16
27
18
Curt Gelling Aberdeen, SD
Aberdeen, SD
11
17
20
58X
Blake Swenson Watertown, SD
Watertown, SD
3
18
31
21X
Dustin Arthur St. Lawrence, SD
St. Lawrence, SD
13
19
33
2D
Dan Dowling Davenport, ND
Davenport, ND
14
20 DNF
9
32
Jordan Tollakson Montevideo, MN
Montevideo, MN
-11
21 DNF
23
28
Jeff Provinzino Hibbing, MN
Hibbing, MN
2
22 DNF
32
84X
Joshua Johnson Harwood, ND
Harwood, ND
10
23 DNF
30
23
Kyle Peterlin Hibbing, MN
Hibbing, MN
7
24 DNF
22
03
Casey Meyer Wahpeton, ND
Wahpeton, ND
-2
25 DNF
7
45
Dustin Bluhm Herman, MN
Herman, MN
-18
26 DNF
25
42S
Don Shaw Ham Lake, MN
Ham Lake, MN
-1
27 DNF
16
44M
Eric Mass Rapid City, SD
Rapid City, SD
-11
28 DNF
17
X
Chuck Swenson Watertown, SD
Watertown, SD
-11
29 DNF
14
1-2
Bryce Sward Nelson, MN
Nelson, MN
-15
30 DNF
29
3M
Greg Meyer Wahpeton, ND
Wahpeton, ND
-1
31 DNF
26
20H
Jeff Hartley Watertown, SD
Watertown, SD
-5
32 DNF
28
18X
Shawn Meyer Wahpeton, ND
Wahpeton, ND
-4
33 DNF
18
71X
Cory Tammen Wolverton, MN
Wolverton, MN
-15
12 Laps
Last Chance Race 1Speedway Motors
Finish
Start
#
Competitor
Hometown
+/-
1
1
42S
Don Shaw Ham Lake, MN
Ham Lake, MN
-
2
2
20H
Jeff Hartley Watertown, SD
Watertown, SD
-
3
4
23
Kyle Peterlin Hibbing, MN
Hibbing, MN
1
Top 3 transfer
4
9
21XX
Travis Saurer Elizabeth, MN
Elizabeth, MN
5
5
3
79
Kevin Carlson Hermantown, MN
Hermantown, MN
-2
6
6
1R
Travis Robertson Moorhead, MN
Moorhead, MN
-
7
8
9R
Erik Robertson Casselton, ND
Casselton, ND
1
8
5
7
Scott Lehn Albany, MN
Albany, MN
-3
9
7
16S
Jeff Hapala West Fargo, ND
West Fargo, ND
-2
10
11
S16
Teresa Schuler Gillette, WY
Gillette, WY
1
DNS
10
4V
Billy Vogel Fargo, ND
Fargo, ND
-
DNS
12
10K
Shawn Kirwin Morris, MN
Morris, MN
-
DNS
13
89R
Craig Rodgers Gillette, WY
Gillette, WY
-
12 Laps
Last Chance Race 2Speedway Motors
Finish
Start
#
Competitor
Hometown
+/-
1
1
18
Curt Gelling Aberdeen, SD
Aberdeen, SD
-
2
2
18X
Shawn Meyer Wahpeton, ND
Wahpeton, ND
-
3
3
3M
Greg Meyer Wahpeton, ND
Wahpeton, ND
-
Top 3 transfer
4
10
2SJ
Josh Skorczewski Aberdeen, SD
Aberdeen, SD
6
5
6
0
Chris Dunn Great Falls, MT
Great Falls, MT
1
6
11
T3
Rich Thomas Aberdeen, SD
Aberdeen, SD
5
7
8
20T
Trevor Walsh Watertown, SD
Watertown, SD
1
8
7
10
Kevin Robertson Enderlin, ND
Enderlin, ND
-1
9
13
444
Troy Daly Omaha, NE
Omaha, NE
4
10
9
2S
Cole Babcock Rothsay, MN
Rothsay, MN
-1
11
12
3H
Jerry Hauge Underwood, MN
Underwood, MN
1
12 DNF
4
1
Ryan Engels Watertown, SD
Watertown, SD
-8
DNS
5
71
Zach Wohlers Cohasset, MN
Cohasset, MN
-
Finish
Start
#
Competitor
Hometown
+/-
1
4
12
Chad Becker Aberdeen, SD
Aberdeen, SD
3
2
6
42S
Don Shaw Ham Lake, MN
Ham Lake, MN
4
3
1
44M
Eric Mass Rapid City, SD
Rapid City, SD
-2
4
12
4
Shane Edginton East St. Paul, MB
East St. Paul, MB
8
5
5
44
Cole Schill Hawley, MN
Hawley, MN
-
6
10
X
Chuck Swenson Watertown, SD
Watertown, SD
4
7
13
85
John Kaanta Elk Mound, WI
Elk Mound, WI
6
8
7
10B
Mike Balcaen Winnipeg, MB
Winnipeg, MB
-1
9
9
23
Kyle Peterlin Hibbing, MN
Hibbing, MN
-
10
3
S16
Teresa Schuler Gillette, WY
Gillette, WY
-7
11 DNF
8
18
Curt Gelling Aberdeen, SD
Aberdeen, SD
-3
12 DNF
2
79
Kevin Carlson Hermantown, MN
Hermantown, MN
-10
DNS
11
28
Jeff Provinzino Hibbing, MN
Hibbing, MN
-
WISSOTA Midwest Mods
25 Laps
Wissota 100 Main FeatureSpeedway Motors
Finish
Start
#
Competitor
Hometown
+/-
1
2
141
Tony Leiker Gillette, WY
Gillette, WY
1
2
9
23DD
George Dalbeck Wakefield, MI
Wakefield, MI
7
3
8
57
Corey Storck Morris, MN
Morris, MN
5
4
5
11
Travis Schulte Becker, MN
Becker, MN
1
5
6
1JR
Tim Johnson Brainerd, MN
Brainerd, MN
1
6
11
10S
Cole Searing Huron, SD
Huron, SD
5
7
7
5
David Swearingen Stacy, MN
Stacy, MN
-
8
17
88XXX
Randy Klein Lisbon, ND
Lisbon, ND
9
9
25
50C
Cody Lee Starbuck, MN
Starbuck, MN
16
10
10
66
Kyle Langland Enderlin, ND
Enderlin, ND
-
11
18
19R
Lucas Rodin Marion, ND
Marion, ND
7
12
27
3JRH
Shane Halopka Greenwood, WI
Greenwood, WI
15
13
24
6
Alex Langland Enderlin, ND
Enderlin, ND
11
14
12
24XS
Tom Silver Glenwood, MN
Glenwood, MN
-2
15
13
25A
Jesse Aho Twin Lakes, MI
Twin Lakes, MI
-2
16
4
28
Brennon Weight LaMoure, ND
LaMoure, ND
-12
17
30
27X
Calvin Iverson Eleva, WI
Eleva, WI
13
18
29
14
Scott Harrington Waubay, SD
Waubay, SD
11
19
33
12X
Jamie Norman Battle Lake, MN
Battle Lake, MN
14
20
22
7S
Sam Zender Fergus Falls, MN
Fergus Falls, MN
2
21
14
28T
Jayson Good Watertown, SD
Watertown, SD
-7
22
26
34J
Derek Rieck Ortonville, MN
Ortonville, MN
4
23
32
7X
Trevor Saurer Dalton, MN
Dalton, MN
9
24
31
20G
Thomas Gill Rice, MN
Rice, MN
7
25
20
7W
Michael Truscott Chippewa Falls, WI
Chippewa Falls, WI
-5
26 DNF
15
83
Kylie Kath Claremont, MN
Claremont, MN
-11
27 DNF
28
092
Nick Bruder Long Prairie, MN
Long Prairie, MN
1
28 DNF
16
67
Mike Nichols Watertown, SD
Watertown, SD
-12
29 DNF
19
13
Nick Koehler Bloomer, WI
Bloomer, WI
-10
30 DNF
3
27
Matt Baker Saint Joseph, MN
Saint Joseph, MN
-27
31 DNF
21
2S
Matt Schow McIntosh, MN
McIntosh, MN
-10
32 DNF
23
24D
Brandon Dolman Alexandria, MN
Alexandria, MN
-9
DQ
1
2G
Brock Gronwold Fergus Falls, MN
Fergus Falls, MN
-
12 Laps
Last Chance Race 1Speedway Motors
Finish
Start
#
Competitor
Hometown
+/-
1
2
50C
Cody Lee Starbuck, MN
Starbuck, MN
1
2
7
092
Nick Bruder Long Prairie, MN
Long Prairie, MN
5
Top 2 transfer
3
1
TB81
Tommy Bawden Clear Lake, MN
Clear Lake, MN
-2
4
13
9B
Brendan Blascyk Hoffman, MN
Hoffman, MN
9
5
4
15R
Jim Randall Rice Lake, WI
Rice Lake, WI
-1
6
15
87S
Reise Stenberg Argusville, ND
Argusville, ND
9
7
5
31H
Scott Hansen Garden City, SD
Garden City, SD
-2
8
3
42
Ron Saurer Dalton, MN
Dalton, MN
-5
9
8
20L
Mason Lesmeister Morris, MN
Morris, MN
-1
10
11
39
Jamie Dietzler Larimore, ND
Larimore, ND
1
11
10
3
Lorin Johnson Miller, SD
Miller, SD
-1
12
17
12S
Chad Switzenberg Sheridan, WY
Sheridan, WY
5
13
19
4B
Arin Beyer Jamestown, ND
Jamestown, ND
6
14
9
2R
Jeff Reed Bemidji, MN
Bemidji, MN
-5
15
21
28S
Ryan Schow McIntosh, MN
McIntosh, MN
6
16
18
15
Tony Konold Clear Lake, SD
Clear Lake, SD
2
17
14
32
Lindsey Hansen Watertown, SD
Watertown, SD
-3
18
16
97
Michelle Hutt Brandon, MN
Brandon, MN
-2
19
20
12
Eric Cease Bath, SD
Bath, SD
1
20 DNF
6
97L
Luke Hines Pillager, MN
Pillager, MN
-14
DNS
12
31
Travis Schurmann Norwood, MN
Norwood, MN
-
12 Laps
Last Chance Race 2Speedway Motors
Finish
Start
#
Competitor
Hometown
+/-
1
1
3JRH
Shane Halopka Greenwood, WI
Greenwood, WI
-
2
13
27X
Calvin Iverson Eleva, WI
Eleva, WI
11
Top 2 transfer
3
5
26G
Ryan Gierke Villard, MN
Villard, MN
2
4
2
50H
Haley Lee Starbuck, MN
Starbuck, MN
-2
5
19
EZ1
Randy Laage Brooten, MN
Brooten, MN
14
6
3
15K
Karl Kolek Menomonie, WI
Menomonie, WI
-3
7
10
32M
Jeremy Meirhofer Belgrade, MT
Belgrade, MT
3
8
7
19
Darrin Lawler Grand Rapids, MN
Grand Rapids, MN
-1
9
14
24
Jason Steinbeisser Platteville, WI
Platteville, WI
5
10
8
19L
Tyler McFarland Goodwin, SD
Goodwin, SD
-2
11
18
23
Jay Will Sheridan, WY
Sheridan, WY
7
12
17
55A
Swede Arneson Pillager, MN
Pillager, MN
5
13 DNF
16
29
Ty Miller Gillette, WY
Gillette, WY
3
14 DNF
21
33X
Justin Froemming Garfield, MN
Garfield, MN
7
15 DNF
9
85
Jason Thimmesh Garfield, MN
Garfield, MN
-6
16 DNF
6
5BA
Aaron Blacklance Thief River Falls, MN
Thief River Falls, MN
-10
17 DNF
11
71K
Cody Kuglin Great Falls, MT
Great Falls, MT
-6
DNS
15
7
Brandon Mehrwerth Foley, MN
Foley, MN
-
DNS
4
07
Jason Hoffman Villard, MN
Villard, MN
-
DNS
12
7R
Tommy Richards Mondovi, WI
Mondovi, WI
-
DNS
20
74
Gary James Nelson Ponemah, MN
Ponemah, MN
-
12 Laps
Last Chance Race 3Speedway Motors
Finish
Start
#
Competitor
Hometown
+/-
1
1
34J
Derek Rieck Ortonville, MN
Ortonville, MN
-
2
2
14
Scott Harrington Waubay, SD
Waubay, SD
-
Top 2 transfer
3
3
11X
Austin Chyba Browerville, MN
Browerville, MN
-
4
10
G12
Ryan Goergen Stacyville, IA
Stacyville, IA
6
5
7
16
Skyler Smith Bemidji, MN
Bemidji, MN
2
6
6
61
Zach LaQua Watertown, SD
Watertown, SD
-
7
9
28B
Josh Backman Alberta, MN
Alberta, MN
2
8
20
18
Justin Feltus Warba, MN
Warba, MN
12
9
15
82G
Chad Gronner Underwood, MN
Underwood, MN
6
10
13
10T
Tom Morriseau Richer, MB
Richer, MB
3
11
12
3JR
Lane Johnson Miller, SD
Miller, SD
1
12
14
10
Justin VanEps Kandiyohi, MN
Kandiyohi, MN
2
13
19
20
Nick Audette St. Adolphe, MB
St. Adolphe, MB
6
14
17
55
Jordan Kienow Miller, SD
Miller, SD
3
15
5
81X
Matt Sparby Bemidji, MN
Bemidji, MN
-10
16
16
77J
Nathan Jager Groton, SD
Groton, SD
-
17
11
24X
Rick Norman Underwood, MN
Underwood, MN
-6
18 DNF
4
17
Ashley Mehrwerth St. Stephen, MN
St. Stephen, MN
-14
19 DNF
18
24M
Mike Hart Erhard, MN
Erhard, MN
-1
DNS
8
06
Jeremy Nelson Zimmerman, MN
Zimmerman, MN
-
DNS
21
22
Tyler Kintner Hibbing, MN
Hibbing, MN
-
Finish
Start
#
Competitor
Hometown
+/-
1
1
141
Tony Leiker Gillette, WY
Gillette, WY
-
2
3
3JRH
Shane Halopka Greenwood, WI
Greenwood, WI
1
3
6
5
David Swearingen Stacy, MN
Stacy, MN
3
4
9
2S
Matt Schow McIntosh, MN
McIntosh, MN
5
5
14
10S
Cole Searing Huron, SD
Huron, SD
9
6
4
EZ1
Randy Laage Brooten, MN
Brooten, MN
-2
7
5
16
Skyler Smith Bemidji, MN
Bemidji, MN
-2
8
16
57
Corey Storck Morris, MN
Morris, MN
8
9
7
21
Jimmy Latvala Solon Springs, WI
Solon Springs, WI
-2
10
17
2G
Brock Gronwold Fergus Falls, MN
Fergus Falls, MN
7
11
12
32M
Jeremy Meirhofer Belgrade, MT
Belgrade, MT
1
12
8
28
Brennon Weight LaMoure, ND
LaMoure, ND
-4
13
19
83
Kylie Kath Claremont, MN
Claremont, MN
6
14
13
31H
Scott Hansen Garden City, SD
Garden City, SD
-1
15
20
23DD
George Dalbeck Wakefield, MI
Wakefield, MI
5
16
15
G12
Ryan Goergen Stacyville, IA
Stacyville, IA
-1
17 DNF
18
11
Travis Schulte Becker, MN
Becker, MN
1
18 DNF
11
15
Tony Konold Clear Lake, SD
Clear Lake, SD
-7
DNS
10
13
Nick Koehler Bloomer, WI
Bloomer, WI
-
DNS
21
23
Jay Will Sheridan, WY
Sheridan, WY
-
DNS
2
27
Matt Baker Saint Joseph, MN
Saint Joseph, MN
-
WISSOTA Mod Four
20 Laps
Wissota 100 Main FeatureSpeedway Motors
Finish
Start
#
Competitor
Hometown
+/-
1
1
00T
Keith Thell Clear Lake, MN
Clear Lake, MN
-
2
3
M16
Mitchell Hribar Zimmerman, MN
Zimmerman, MN
1
3
6
16
Jamie Flickinger New London, MN
New London, MN
3
4
2
5E
Matt Halls Big Lake, MN
Big Lake, MN
-2
5
9
99JR
Blake Erickson Bagley, MN
Bagley, MN
4
6
8
N88
Gerrald Nohner Onamia, MN
Onamia, MN
2
7
10
01
Justin Pogones Princeton, MN
Princeton, MN
3
8
17
70
Steve Schicketanz Casper, WY
Casper, WY
9
9
18
32
Dwight Gilyard St. Cloud, MN
St. Cloud, MN
9
10
20
37
Dean Larson Pennock, MN
Pennock, MN
10
11
22
30
Dean Shaver Leonard, MN
Leonard, MN
11
12
12
42
Stephen Schicketanz II Casper, WY
Casper, WY
-
13
16
33
Robert Harley Casper, WY
Casper, WY
3
14
25
00
Jeff Kittle Casper, WY
Casper, WY
11
15
26
41
Clint Jensen Midland, SD
Midland, SD
11
16
27
55
Shelli Lind Gillette, WY
Gillette, WY
11
17
15
04
Tommy Pogones Princeton, MN
Princeton, MN
-2
18
7
6SIX
Forrest Foster Belgrade, MN
Belgrade, MN
-11
19
28
69
Mike Lind Gillette, WY
Gillette, WY
9
20
29
5F
Nicole Feda Bemidji, MN
Bemidji, MN
9
21
14
21F
David Fortier Ramsey, MN
Ramsey, MN
-7
22
4
5
Robert Holtquist Milbank, SD
Milbank, SD
-18
23 DNF
5
25
Justin Will Sheridan, WY
Sheridan, WY
-18
24 DNF
13
74
Todd Pudwill Rapid City, SD
Rapid City, SD
-11
25 DNF
11
26M
Garrett Masurka Bemidji, MN
Bemidji, MN
-14
26 DNF
23
41J
Josh Jensen Midland, SD
Midland, SD
-3
27 DNF
24
5H
Dustin Holtquist St. Cloud, MN
St. Cloud, MN
-3
28 DNF
30
23
Allen Foster Bemidji, MN
Bemidji, MN
2
29 DNF
21
21
Chad Funt Hillman, MN
Hillman, MN
-8
30 DNF
19
9
Adam Prieve Litchfield, MN
Litchfield, MN
-11
Finish
Start
#
Competitor
Hometown
+/-
1
8
00T
Keith Thell Clear Lake, MN
Clear Lake, MN
7
2
1
M16
Mitchell Hribar Zimmerman, MN
Zimmerman, MN
-1
3
2
41
Clint Jensen Midland, SD
Midland, SD
-1
4
5
16
Jamie Flickinger New London, MN
New London, MN
1
5
7
5H
Dustin Holtquist St. Cloud, MN
St. Cloud, MN
2
6
3
32
Dwight Gilyard St. Cloud, MN
St. Cloud, MN
-3
7
12
37
Dean Larson Pennock, MN
Pennock, MN
5
8
10
5
Robert Holtquist Milbank, SD
Milbank, SD
2
9
9
N88
Gerrald Nohner Onamia, MN
Onamia, MN
-
10
11
00
Jeff Kittle Casper, WY
Casper, WY
1
11 DNF
4
41J
Josh Jensen Midland, SD
Midland, SD
-7
12 DNF
13
9
Adam Prieve Litchfield, MN
Litchfield, MN
1
13 DNF
14
01
Justin Pogones Princeton, MN
Princeton, MN
1
DNS
6
25
Justin Will Sheridan, WY
Sheridan, WY
-
WISSOTA Modifieds
30 Laps
Wissota 100 Main FeatureSpeedway Motors
Finish
Start
#
Competitor
Hometown
+/-
1
2
18A
Landon Atkinson Little Falls, MN
Little Falls, MN
1
2
6
2
Denis Czech Gilman, MN
Gilman, MN
4
3
3
9E
Don Eischens Richmond, MN
Richmond, MN
-
4
15
60
Dan Ebert Lake Shore, MN
Lake Shore, MN
11
5
14
17
Mike Greseth Harwood, ND
Harwood, ND
9
6
5
45J
Johnny Broking Grand Rapids, MN
Grand Rapids, MN
-1
7
4
2C
Dave Cain Corcoran, MN
Corcoran, MN
-3
8
1
24S
Mike Stearns Aberdeen, SD
Aberdeen, SD
-7
9
12
1TPO
Tyler Peterson Hickson, ND
Hickson, ND
3
10
17
22T
Michael Truscott Chippewa Falls, WI
Chippewa Falls, WI
7
11
20
57
Mike Anderson Jim Falls, WI
Jim Falls, WI
9
12
8
6*
Brian Haben Appleton, MN
Appleton, MN
-4
13
24
47
Danny Vang Deerwood, MN
Deerwood, MN
11
14
21
10W
Ward Imrie Winnipeg, MB
Winnipeg, MB
7
15
10
45
Bob Broking Grand Rapids, MN
Grand Rapids, MN
-5
16
28
5X
Dan Pederson Underwood, MN
Underwood, MN
12
17
29
6X
Zach Johnson Lowry, MN
Lowry, MN
12
18
27
51
Josh Thoennes Nelson, MN
Nelson, MN
9
19
25
48
Brent Dutenhoffer Watertown, SD
Watertown, SD
6
20
19
5XX
Scot Danzeisen Herman, MN
Herman, MN
-1
21
26
52
Jason Thoennes Garfield, MN
Garfield, MN
5
22
31
7T
Joseph Thomas Glyndon, MN
Glyndon, MN
9
23
33
2S
Matt Schow McIntosh, MN
McIntosh, MN
10
24
30
96
Taton Hansen Spicer, MN
Spicer, MN
6
25
32
6
Dale Ames Huron, SD
Huron, SD
7
26 DNF
13
10X
Dustin Bitzan Brandon, MN
Brandon, MN
-13
27 DNF
7
7A
Shane Sabraski Rice, MN
Rice, MN
-20
28 DNF
16
2X
Brady Gerdes Villard, MN
Villard, MN
-12
29 DNF
22
5H
Brett Hoium Villard, MN
Villard, MN
-7
30 DNF
18
21X
Travis Saurer Elizabeth, MN
Elizabeth, MN
-12
31 DNF
23
53
Chris Mensen Carlos, MN
Carlos, MN
-8
32 DNF
9
51A
Alex Guthmiller Milbank, SD
Milbank, SD
-23
33 DNF
11
2J
Blake Jegtvig Hawley, MN
Hawley, MN
-22
12 Laps
Last Chance Race 1Speedway Motors
Finish
Start
#
Competitor
Hometown
+/-
1
1
48
Brent Dutenhoffer Watertown, SD
Watertown, SD
-
2
2
52
Jason Thoennes Garfield, MN
Garfield, MN
-
3
3
96
Taton Hansen Spicer, MN
Spicer, MN
-
Top 3 transfer
4
7
5P
Ryan Pommerer Oriska, ND
Oriska, ND
3
5
12
7J
Rick Jacobson Bemidji, MN
Bemidji, MN
7
6
11
13X
McKenzie Mikkelson Alexandria, MN
Alexandria, MN
5
7
6
6T
Corky Thomas Glyndon, MN
Glyndon, MN
-1
8 DNF
5
5K
Tyler Kaeter St. Cloud, MN
St. Cloud, MN
-3
9 DNF
4
15S
Wade Skindelien New London, MN
New London, MN
-5
10 DNF
13
777
Pete Hines Brainerd, MN
Brainerd, MN
3
11 DNF
8
3S
Nathan Sletto Brandon, MN
Brandon, MN
-3
DNS
10
X
Chris Moore Madison, SD
Madison, SD
-
DNS
9
10
Austin Arneson Fargo, ND
Fargo, ND
-
DNS
14
32
Shaun Peterson Alexandria, MN
Alexandria, MN
-
12 Laps
Last Chance Race 2Speedway Motors
Finish
Start
#
Competitor
Hometown
+/-
1
1
51
Josh Thoennes Nelson, MN
Nelson, MN
-
2
4
5X
Dan Pederson Underwood, MN
Underwood, MN
2
3
5
6X
Zach Johnson Lowry, MN
Lowry, MN
2
Top 3 transfer
4
2
85
Jayson Good Watertown, SD
Watertown, SD
-2
5
9
51T
Tim Thomas West Fargo, ND
West Fargo, ND
4
6
15
27X
Calvin Iverson Eleva, WI
Eleva, WI
9
7
3
20
Trevor Anderson Watertown, SD
Watertown, SD
-4
8
8
16
Gavin Paull Fort Frances, ON
Fort Frances, ON
-
9
10
1B
Jason Blascyk Hoffman, MN
Hoffman, MN
1
10
11
54
Terry Bendel Madison, MN
Madison, MN
1
11
12
99
Doyle Erickson Bagley, MN
Bagley, MN
1
12
14
3
Arne Anderson Watertown, SD
Watertown, SD
2
13
7
20B
Todd Berg Starbuck, MN
Starbuck, MN
-6
DNS
13
79
Billie Christ Jamestown, ND
Jamestown, ND
-
DNS
6
24
Brandon Dolman Alexandria, MN
Alexandria, MN
-
15 Laps
Modified ROC RaceAFCO
Finish
Start
#
Competitor
Hometown
+/-
1
6
7A
Shane Sabraski Rice, MN
Rice, MN
5
2
7
2C
Dave Cain Corcoran, MN
Corcoran, MN
5
3
10
57
Mike Anderson Jim Falls, WI
Jim Falls, WI
7
4
4
6*
Brian Haben Appleton, MN
Appleton, MN
-
5
12
2
Denis Czech Gilman, MN
Gilman, MN
7
6
15
45J
Johnny Broking Grand Rapids, MN
Grand Rapids, MN
9
7
11
24S
Mike Stearns Aberdeen, SD
Aberdeen, SD
4
8
5
60
Dan Ebert Lake Shore, MN
Lake Shore, MN
-3
9
2
85
Jayson Good Watertown, SD
Watertown, SD
-7
10
16
47
Danny Vang Deerwood, MN
Deerwood, MN
6
11
14
22T
Michael Truscott Chippewa Falls, WI
Chippewa Falls, WI
3
12
8
2X
Brady Gerdes Villard, MN
Villard, MN
-4
13
9
20
Trevor Anderson Watertown, SD
Watertown, SD
-4
14 DNF
13
10W
Ward Imrie Winnipeg, MB
Winnipeg, MB
-1
15 DNF
1
3S
Nathan Sletto Brandon, MN
Brandon, MN
-14
16 DNF
3
10X
Dustin Bitzan Brandon, MN
Brandon, MN
-13
WISSOTA Street Stock
25 Laps
Wissota 100 Main FeatureSpeedway Motors
Finish
Start
#
Competitor
Hometown
+/-
1
3
10V
Justin Vogel Brooten, MN
Brooten, MN
2
2
6
67
Ryan Satter Dent, MN
Dent, MN
4
3
18
00G
Jim Gullikson Nowthen, MN
Nowthen, MN
15
4
7
46C
Jonny Carter Fairmont, ND
Fairmont, ND
3
5
9
12
Cody Kummer Medford, WI
Medford, WI
4
6
8
20
Andrew Hanson Iron River, WI
Iron River, WI
2
7
21
70
Andrew Bangsund Alexandria, MN
Alexandria, MN
14
8
12
21H
Scott Huston Benson, MN
Benson, MN
4
9
5
5P
Ryan Pommerer Oriska, ND
Oriska, ND
-4
10
13
15
Zach Elward Hayfield, MN
Hayfield, MN
3
11
14
97
Hunter Domagala Mandan, ND
Mandan, ND
3
12
17
51
Eric Riley Morris, MN
Morris, MN
5
13
25
79
Billie Christ Jamestown, ND
Jamestown, ND
12
14
30
01
Kory Adams Stacyville, IA
Stacyville, IA
16
15
16
3
Brett Miller Alexandria, MN
Alexandria, MN
1
16
27
2U
Kasey Ussatis Nome, ND
Nome, ND
11
17
15
27X
Calvin Iverson Eleva, WI
Eleva, WI
-2
18
20
11*
Robert Petroff Bozeman, MT
Bozeman, MT
2
19
23
19
Cole Kannegiesser Hancock, MN
Hancock, MN
4
20
29
21C
Cory Craver Belgrade, MT
Belgrade, MT
9
21
31
69
Rodney Hunter Deer Lodge, MT
Deer Lodge, MT
10
22 DNF
26
14
Russell Kostreba Zimmerman, MN
Zimmerman, MN
4
23 DNF
4
11
Kyle Dykhoff Starbuck, MN
Starbuck, MN
-19
24 DNF
10
3R
Danny Richards Mondovi, WI
Mondovi, WI
-14
25 DNF
19
2K
Tyler Klugman Wheaton, MN
Wheaton, MN
-6
26 DNF
24
4
Trey Hess Grand Forks, ND
Grand Forks, ND
-2
27 DNF
22
22W
Jim Williams DeGraff, MN
DeGraff, MN
-5
28 DNF
33
30
Seth Klostreich Grand Forks, ND
Grand Forks, ND
5
29 DNF
28
18
Gavin Rowland Ogilvie, MN
Ogilvie, MN
-1
30 DNF
1
15R
Jim Randall Rice Lake, WI
Rice Lake, WI
-29
31 DNF
11
59
Kyle Anderson Jamestown, ND
Jamestown, ND
-20
32 DNF
32
17
Matt Steuerwald Madison, SD
Madison, SD
-
33 DNF
2
27JR
Parker Anderson Phillips, WI
Phillips, WI
-31
12 Laps
Last Chance Race 1Speedway Motors
Finish
Start
#
Competitor
Hometown
+/-
1
8
79
Billie Christ Jamestown, ND
Jamestown, ND
7
2
3
14
Russell Kostreba Zimmerman, MN
Zimmerman, MN
1
3
1
01
Kory Adams Stacyville, IA
Stacyville, IA
-2
Top 3 transfer
4
5
10
Joe Potter Euclid, MN
Euclid, MN
1
5
6
539
Aaron Blacklance Thief River Falls, MN
Thief River Falls, MN
1
6
12
12X
Kurt Becken Big Lake, MN
Big Lake, MN
6
7
4
21
Kelly Hoerner Bismarck, ND
Bismarck, ND
-3
8
14
87X
Rex Feller Bozeman, MT
Bozeman, MT
6
9
13
79C
Charlie Christ Jamestown, ND
Jamestown, ND
4
10 DNF
9
2
Fred Prudoehl Winona, MN
Winona, MN
-1
11 DNF
10
Z22
Cole Phillips Winner, SD
Winner, SD
-1
12 DNF
11
49
Broc Stout Winner, SD
Winner, SD
-1
13 DNF
7
71X
Travis Scott Glenwood, MN
Glenwood, MN
-6
DNS
2
12S
Trevor Anderson Watertown, SD
Watertown, SD
-
DNS
15
46
Jason Berg Bismarck, ND
Bismarck, ND
-
DNS
16
27
Jerry Lamb Lisbon, ND
Lisbon, ND
-
12 Laps
Last Chance Race 2Speedway Motors
Finish
Start
#
Competitor
Hometown
+/-
1
2
2U
Kasey Ussatis Nome, ND
Nome, ND
1
2
3
18
Gavin Rowland Ogilvie, MN
Ogilvie, MN
1
3
4
21C
Cory Craver Belgrade, MT
Belgrade, MT
1
Top 3 transfer
4
6
69C
Bryan Crandall Herman, MN
Herman, MN
2
5
9
88
Scott Witkowski Aberdeen, SD
Aberdeen, SD
4
6
5
00
Ross Bjerkeset St. Leo, MN
St. Leo, MN
-1
7
7
86
Patrick LaMere Great Falls, MT
Great Falls, MT
-
8
11
99
Andy Rossow Florence, SD
Florence, SD
3
9
16
1JR
Tim Johnson Brainerd, MN
Brainerd, MN
7
10
14
05
Kyle Howland Zimmerman, MN
Zimmerman, MN
4
11
8
77
Austen Bowman Pennock, MN
Pennock, MN
-3
12
10
24
Mike Hart Erhard, MN
Erhard, MN
-2
13
17
19B
Kyle Bertram Dallas, SD
Dallas, SD
4
14
12
35S
Kegan Stueve Greenwald, MN
Greenwald, MN
-2
15
15
16
Greg Platzer Robbinsdale, MN
Robbinsdale, MN
-
DNS
13
33
Daniel Aberle Finley, ND
Finley, ND
-
DNS
1
42K
Mike Knudtson Osseo, WI
Osseo, WI
-
15 Laps
Street Stock ROC RaceAFCO
Finish
Start
#
Competitor
Hometown
+/-
1
7
46C
Jonny Carter Fairmont, ND
Fairmont, ND
6
2
4
21C
Cory Craver Belgrade, MT
Belgrade, MT
2
3
3
15
Zach Elward Hayfield, MN
Hayfield, MN
-
4
6
05
Kyle Howland Zimmerman, MN
Zimmerman, MN
2
5
1
11*
Robert Petroff Bozeman, MT
Bozeman, MT
-4
6
20
49
Broc Stout Winner, SD
Winner, SD
14
7
13
97
Hunter Domagala Mandan, ND
Mandan, ND
6
8
12
51
Eric Riley Morris, MN
Morris, MN
4
9
10
00
Ross Bjerkeset St. Leo, MN
St. Leo, MN
1
10
8
20
Andrew Hanson Iron River, WI
Iron River, WI
-2
11
17
19B
Kyle Bertram Dallas, SD
Dallas, SD
6
12
19
87X
Rex Feller Bozeman, MT
Bozeman, MT
7
13
11
88
Scott Witkowski Aberdeen, SD
Aberdeen, SD
-2
14 DNF
15
10V
Justin Vogel Brooten, MN
Brooten, MN
1
15 DNF
18
67
Ryan Satter Dent, MN
Dent, MN
3
16 DNF
2
11
Kyle Dykhoff Starbuck, MN
Starbuck, MN
-14
17 DNF
5
4
Trey Hess Grand Forks, ND
Grand Forks, ND
-12
DNS
16
3R
Danny Richards Mondovi, WI
Mondovi, WI
-
DNS
14
01
Kory Adams Stacyville, IA
Stacyville, IA
-
DNS
9
15R
Jim Randall Rice Lake, WI
Rice Lake, WI
-
DNS
21
30
Seth Klostreich Grand Forks, ND
Grand Forks, ND
-
WISSOTA Super Stock
30 Laps
Wissota 100 Main FeatureSpeedway Motors
Finish
Start
#
Competitor
Hometown
+/-
1
3
1M
Curt Myers Cameron, WI
Cameron, WI
2
2
10
7A
Shane Sabraski Rice, MN
Rice, MN
8
3
7
1JR
Tim Johnson Brainerd, MN
Brainerd, MN
4
4
6
30
Kevin Burdick Proctor, MN
Proctor, MN
2
5
1
29*
Jeff Crouse Alexandria, MN
Alexandria, MN
-4
6
4
7R
Tommy Richards Mondovi, WI
Mondovi, WI
-2
7
8
22
Dan Nissalke Winona, MN
Winona, MN
1
8
19
29F
Dave Flynn Superior, WI
Superior, WI
11
9
11
46
Dustin Nelson Ogilvie, MN
Ogilvie, MN
2
10
18
55
Gary Husmann Litchfield, MN
Litchfield, MN
8
11
13
78K
Dexton Koch Becker, MN
Becker, MN
2
12
14
511
Zach Schultz Grove City, MN
Grove City, MN
2
13
25
9E
Don Eischens Richmond, MN
Richmond, MN
12
14
16
21TS
Trevor Saurer Dalton, MN
Dalton, MN
2
15
22
71
Trevor Nelson Warner, SD
Warner, SD
7
16
26
21S
Sam Zender Fergus Falls, MN
Fergus Falls, MN
10
17
23
12K
Duane (D.J.) Keeler Superior, WI
Superior, WI
6
18
17
25
Dylan Nelson Merrifield, MN
Merrifield, MN
-1
19
31
99
Shawn Fernkes Pennock, MN
Pennock, MN
12
20
29
17
Ryan Kostreba Elk River, MN
Elk River, MN
9
21
27
81X
Matt Sparby Bemidji, MN
Bemidji, MN
6
22
21
54
William Lund Brandon, MN
Brandon, MN
-1
23
33
70X
Kurt Becken Big Lake, MN
Big Lake, MN
10
24
28
6F
Matt Fester Grove City, MN
Grove City, MN
4
25 DNF
12
27
Jared Zimpel Braham, MN
Braham, MN
-13
26 DNF
15
77L
Scott Lawrence Superior, WI
Superior, WI
-11
27 DNF
24
13M
Matt Miller Glenwood, MN
Glenwood, MN
-3
28 DNF
5
5
Josh Zimpel Braham, MN
Braham, MN
-23
29 DNF
9
10
Cole Searing Huron, SD
Huron, SD
-20
30 DNF
2
2
Dave Mass East Bethel, MN
East Bethel, MN
-28
31 DNF
30
8
Shawn Malsam Aberdeen, SD
Aberdeen, SD
-1
32 DNF
20
66
Jacob Knapper Montevideo, MN
Montevideo, MN
-12
33 DNF
32
32
Jon Tollakson Montevideo, MN
Montevideo, MN
-1
12 Laps
Last Chance Race 1Speedway Motors
Finish
Start
#
Competitor
Hometown
+/-
1
1
9E
Don Eischens Richmond, MN
Richmond, MN
-
2
2
21S
Sam Zender Fergus Falls, MN
Fergus Falls, MN
-
3
8
8
Shawn Malsam Aberdeen, SD
Aberdeen, SD
5
Top 3 transfer
4
5
18
Kevin Schmidt Becker, MN
Becker, MN
1
5
3
21
Jim Gullikson Nowthen, MN
Nowthen, MN
-2
6
11
20
Jeremy North Huron, SD
Huron, SD
5
7
16
65
Luis Chavez Aberdeen, SD
Aberdeen, SD
9
8
14
85
Patrick LaMere Great Falls, MT
Great Falls, MT
6
9
15
12
David Dosh Brainerd, MN
Brainerd, MN
6
10
12
21T
Dale Tomes Dell Rapids, SD
Dell Rapids, SD
2
11
13
4
Casey Hanson Badger, SD
Badger, SD
2
12 DNF
4
515
Chad Fouquette St. Cloud, MN
St. Cloud, MN
-8
13 DNF
10
29
Jon Crouse Alexandria, MN
Alexandria, MN
-3
14 DNF
6
33
Jeff Flaten Hancock, MN
Hancock, MN
-8
DNS
9
15
Ryan Flaten Madison, MN
Madison, MN
-
DNS
17
24M
Cody Martin Mitchell, SD
Mitchell, SD
-
DNS
7
0
Brandon Duellman Winona, MN
Winona, MN
-
12 Laps
Lasts Chance Race 2Speedway Motors
Finish
Start
#
Competitor
Hometown
+/-
1
2
81X
Matt Sparby Bemidji, MN
Bemidji, MN
1
2
4
6F
Matt Fester Grove City, MN
Grove City, MN
2
3
13
17
Ryan Kostreba Elk River, MN
Elk River, MN
10
Top 3 transfer
4
6
29S
Joel Snyder Cambridge, MN
Cambridge, MN
2
5
3
57
Dalton Carlson Cohasset, MN
Cohasset, MN
-2
6
7
9
Dominic Baker Osakis, MN
Osakis, MN
1
7
9
19
Brayden Hedtke Atwater, MN
Atwater, MN
2
8
14
10W
Blake Whitlock Watertown, SD
Watertown, SD
6
9
11
94
Kevin Hager Kellogg, MN
Kellogg, MN
2
10
12
4A
Allan Cleveland Breckenridge, MN
Breckenridge, MN
2
11
15
67