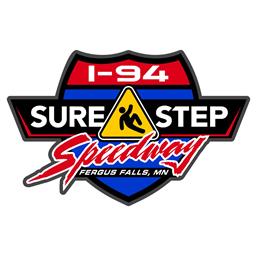 9/10/2019 - I-94 Speedway
Fergus Falls, MN
Wissota 100 Wissota Pure Stock, Wissota Hornet and Practice Night
WISSOTA 100 w/ WISSOTA Pure Stock, WISSOTA Hornets and Practice Night
2:00 Pit Gates Open
5:30 Pit Meeting
5:15 Track Packing
5:30 Draw Cut Off for Pure Stock and Hornets Only
6:00 Open Practice will run through out the evening between heat races and features and following the features.
7:30 Wissota Hornet & Pure Stock Heat Races (8 Laps)
Features will start 45 MINUTES after heat races. 9:10 pm Features will start.
Features will line up using passing points for the Hornets and Pure Stock. Top 6 in passing points will redraw for the Top 6 positions in the feature.
Pre - race inspection will take place for the cars in attendance for the open practice to help alleviate the rush on Wednesday.
WISSOTA Pure Stock

15 entries

WISSOTA Hornet

27 entries
Full Event Information on MyRacePass
WISSOTA Pure Stock
20 Laps
W100 Pure Stock Feature 1
Finish
Start
#
Competitor
Hometown
+/-
1
2
15
James Vendela South Range, WI
South Range, WI
1
2
3
16
Cory Jorgensen Duluth, MN
Duluth, MN
1
3
6
35B
Josh Berg Bemidji, MN
Bemidji, MN
3
4
8
66
Michael Roth Grand Rapids, MN
Grand Rapids, MN
4
5
5
17
Aaron Bernick Duluth, MN
Duluth, MN
-
6
9
1R
Cole Richards Mondovi, WI
Mondovi, WI
3
7
11
3C
Jamie Chlebecek Lehigh Acres, FL
Lehigh Acres, FL
4
8
4
19J
Jared Akervik Superior, WI
Superior, WI
-4
9 DNF
1
72
Kevin Baumgarner Deer River, MN
Deer River, MN
-8
10 DNF
7
57
Austin Carlson Cohasset, MN
Cohasset, MN
-3
11 DNF
14
11E
Dylan Shelton Wrenshall, MN
Wrenshall, MN
3
12 DNF
13
66P
Joey Prusak Port Orange, FL
Port Orange, FL
1
13 DNF
15
13J
Nicholas Jessen Bemidji, MN
Bemidji, MN
2
14 DNF
12
74
Steve Nordhagen The Villiages, FL
The Villiages, FL
-2
15 DNF
10
5R
George Richards Mondovi, WI
Mondovi, WI
-5
8 Laps
W100 Pure Stock Heat 1
Finish
Start
#
Competitor
Hometown
+/-
1
2
35B
Josh Berg Bemidji, MN
Bemidji, MN
1
2
3
15
James Vendela South Range, WI
South Range, WI
1
3
6
19J
Jared Akervik Superior, WI
Superior, WI
3
4
8
72
Kevin Baumgarner Deer River, MN
Deer River, MN
4
5
1
5R
George Richards Mondovi, WI
Mondovi, WI
-4
6
5
74
Steve Nordhagen The Villiages, FL
The Villiages, FL
-1
7
7
66P
Joey Prusak Port Orange, FL
Port Orange, FL
-
8
4
11E
Dylan Shelton Wrenshall, MN
Wrenshall, MN
-4
8 Laps
W100 Pure Stock Heat 2
Finish
Start
#
Competitor
Hometown
+/-
1
1
16
Cory Jorgensen Duluth, MN
Duluth, MN
-
2
3
17
Aaron Bernick Duluth, MN
Duluth, MN
1
3
4
57
Austin Carlson Cohasset, MN
Cohasset, MN
1
4
7
66
Michael Roth Grand Rapids, MN
Grand Rapids, MN
3
5
6
1R
Cole Richards Mondovi, WI
Mondovi, WI
1
6
2
3C
Jamie Chlebecek Lehigh Acres, FL
Lehigh Acres, FL
-4
7 DNF
5
13J
Nicholas Jessen Bemidji, MN
Bemidji, MN
-2
WISSOTA Hornet
20 Laps
W100 Hornet Feature 1
Finish
Start
#
Competitor
Hometown
+/-
1
3
17A
Jacob Aarhus Canby, MN
Canby, MN
2
2
2
33L
Austin Lammers Pelican Rapids, MN
Pelican Rapids, MN
-
3
8
63X
Grayson Pratt Dayton, MN
Dayton, MN
5
4
13
14
Justin Schelitzche Waconia, MN
Waconia, MN
9
5
7
99
Nate Servaty Princeton, MN
Princeton, MN
2
6
25
27
Corey Mehrwerth St. Stephen, MN
St. Stephen, MN
19
7
12
7BR
Lucas Boyce Hinckley, MN
Hinckley, MN
5
8
11
84
Doug Martin Willmar, MN
Willmar, MN
3
9
14
32
Brady Hagen Montevideo, MN
Montevideo, MN
5
10
9
7X
Peter Martin Willmar, MN
Willmar, MN
-1
11
5
4P
Matt Pederson Lake Park, MN
Lake Park, MN
-6
12
20
7B
Zach Besmehn Baxter, MN
Baxter, MN
8
13
21
24
Max Nelson Milaca, MN
Milaca, MN
8
14
15
12
Brent Engler Barrett, MN
Barrett, MN
1
15
19
21G
Paul George Princeton, MN
Princeton, MN
4
16
23
76M
David Marshall Buffalo Lake, MN
Buffalo Lake, MN
7
17
27
50M
Brady Molter Rothsay, MN
Rothsay, MN
10
18
22
14S
Kevin Schmidt Fergus Falls, MN
Fergus Falls, MN
4
19 DNF
18
29
Noah Nelson Dawson, MN
Dawson, MN
-1
20 DNF
17
46SSG
Dannie Burkholder Princeton, MN
Princeton, MN
-3
21 DNF
24
5AR
Adam VanDerostyne Canby, MN
Canby, MN
3
22 DNF
6
21
Zach Kort Fergus Falls, MN
Fergus Falls, MN
-16
23 DNF
16
28
Dustin Miller Boyd, MN
Boyd, MN
-7
24 DNF
4
21R
Carter Rieland St. Cloud, MN
St. Cloud, MN
-20
25 DNF
26
19
Casey Stremick Harwood, ND
Harwood, ND
1
DNS
10
21S
Jake Smith St. Joseph, MN
St. Joseph, MN
-
DQ
1
77H
Daniel Harstad Fergus Falls, MN
Fergus Falls, MN
-
8 Laps
W100 Hornets Heat 1
Finish
Start
#
Competitor
Hometown
+/-
1
2
4P
Matt Pederson Lake Park, MN
Lake Park, MN
1
2
3
99
Nate Servaty Princeton, MN
Princeton, MN
1
3
5
21S
Jake Smith St. Joseph, MN
St. Joseph, MN
2
4
6
14
Justin Schelitzche Waconia, MN
Waconia, MN
2
5
4
29
Noah Nelson Dawson, MN
Dawson, MN
-1
6
7
24
Max Nelson Milaca, MN
Milaca, MN
1
7 DNF
1
19
Casey Stremick Harwood, ND
Harwood, ND
-6
Finish
Start
#
Competitor
Hometown
+/-
1
2
21
Zach Kort Fergus Falls, MN
Fergus Falls, MN
1
2
6
33L
Austin Lammers Pelican Rapids, MN
Pelican Rapids, MN
4
3
3
7BR
Lucas Boyce Hinckley, MN
Hinckley, MN
-
4
1
32
Brady Hagen Montevideo, MN
Montevideo, MN
-3
5
5
21G
Paul George Princeton, MN
Princeton, MN
-
6
4
76M
David Marshall Buffalo Lake, MN
Buffalo Lake, MN
-2
7
7
5AR
Adam VanDerostyne Canby, MN
Canby, MN
-
Finish
Start
#
Competitor
Hometown
+/-
1
4
17A
Jacob Aarhus Canby, MN
Canby, MN
3
2
2
7X
Peter Martin Willmar, MN
Willmar, MN
-
3
7
77H
Daniel Harstad Fergus Falls, MN
Fergus Falls, MN
4
4
1
12
Brent Engler Barrett, MN
Barrett, MN
-3
5
5
7B
Zach Besmehn Baxter, MN
Baxter, MN
-
6
3
14S
Kevin Schmidt Fergus Falls, MN
Fergus Falls, MN
-3
DNS
6
50M
Brady Molter Rothsay, MN
Rothsay, MN
-
Finish
Start
#
Competitor
Hometown
+/-
1
2
21R
Carter Rieland St. Cloud, MN
St. Cloud, MN
1
2
3
63X
Grayson Pratt Dayton, MN
Dayton, MN
1
3
1
84
Doug Martin Willmar, MN
Willmar, MN
-2
4
4
28
Dustin Miller Boyd, MN
Boyd, MN
-
5
6
46SSG
Dannie Burkholder Princeton, MN
Princeton, MN
1
6 DNF
5
27
Corey Mehrwerth St. Stephen, MN
St. Stephen, MN
-1