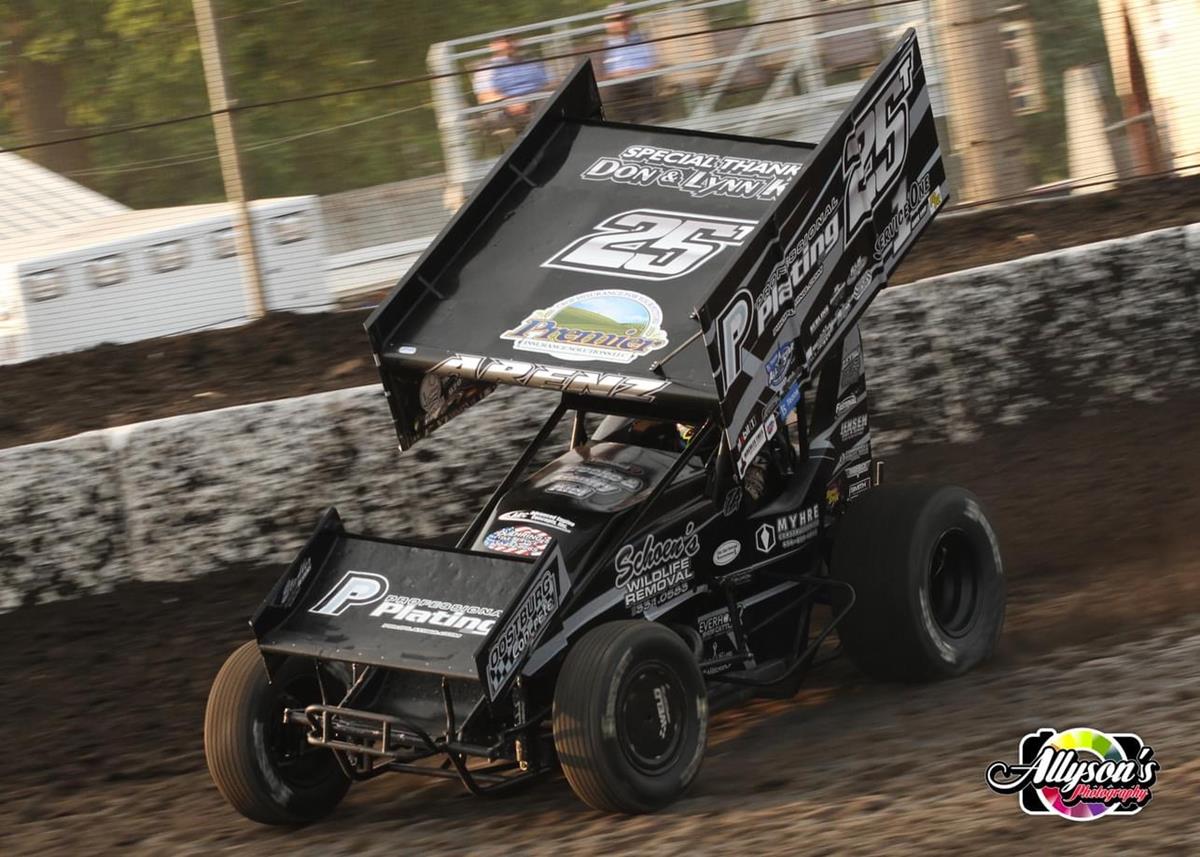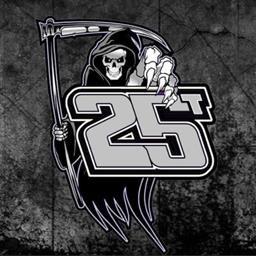 ---
Arenz earns runner-up Angell Park tally, Wilmot hard charger honors in IRA twinbill
(PEDAL DOWN PROMOTIONS) August 23, 2023 – On the heels of a two-week break from racing action, Travis Arenz and the members of the Travis Arenz Motorsports got back into the swing of the 2023 Bumper to Bumper Interstate Racing Association schedule with a doubleheader weekend featuring events at the Kenosha County Fair at Wilmot Raceway in Wilmot, Wis. on Saturday, Aug. 19, which yielded a hard charger award A-main effort, and Corn Fest at Angell Park Speedway in Sun Prairie, Wis., which saw Arenz stand on the podium with a second place A-main finish on Sunday, Aug. 20.
The Sheboygan Falls, Wis. driver opened the Kenosha County Fair IRA program at Wilmot Raceway on Aug. 19 by qualifying 13th in Group A and 20th overall in the large 41-car Roger Iles Tribute IRA field with a lap of 13.602 seconds on the three-eighths mile semi-banked clay oval.
The 2021 and 2022 Plymouth Dirt Track Racing and Midwest Sprint Car Association 360 Sprint Car champion then started and finished seventh in the first eight-lap IRA heat race to miss an A-main transfer spot by two positions.
After lining up fifth in the 12-lap B Main, Arenz worked his way steadily to the front of the field en route to a second place finish to earn a berth in the 30-lap Roger Iles Tribute A-main event.
Arenz rolled off from the 22nd starting spot in the IRA main event before mounting a spirited run up through the field to pass 11 cars en route to an 11th place showing to garner IRA Hard Charger Award accolades in a race won by Bill Balog.
"Wilmot was definitely a struggle in the beginning," Arenz said. "There were 41 cars in attendance and I qualified mid-pack. This started us deep in the heat race and I was unable to transfer to the feature. In the B main, I was able to move up and put the car in the feature. I started 22nd in the A main and was making good ground. Unfortunately, a caution came and my car had shut off, which sent us to the back yet again. I had a good car and ended up finishing 11th."
On Sunday, Aug. 20, Arenz and the members of the Travis Arenz Motorsports team traveled to Angell Park Speedway where Arenz timed in sixth in Group B and 15th overall among the 34-car field with a lap of 13.393 seconds around the historic third-mile semi-banked clay oval.
After starting on the outside front row of the fourth eight-lap IRA heat race, Arenz got the jump on polesitter Jeremy Schultz to take the lead on the opening lap. The 2023 IRA Rookie of the Year candidate held strong at the front of the field on the way to his third heat race victory of the 2023 campaign, which earned him his fifth 2023 appearance in an IRA dash.
After starting and finishing third in the second IRA four-lap dash, Arenz earned the sixth starting spot in the 30-lap Corn Fest A main before advancing to fifth with a pass on Austin Hartmann on lap 2. After a caution period on lap 8 for the slowing car of Scotty Neitzel, Arenz ripped off a slide job to seize fourth from Jake Neuman.
Following a red flag on lap 13 when Scotty Thiel's car flipped on its side along the back stretch, Arenz restarted third before getting around Kyle Schuett to assume second place in the runner order. Another spin on lap 16 involving Thiel bunched the field for one last restart.
However, Balog was just too tough as he pulled away from Arenz and the rest of the field en route to the victory, while Arenz followed close behind to assume a podium runner-up showing. The second place A-main result marked Arenz's 10th top-five A-main finish and 12th top-10 main event showing of the 2023 season.
"At Angell Park, we made do with what we had," Arenz said. "We did not have our usual push vehicle, so we had to carry everything to the infield for qualifying. We forgot many things I would have liked to have, but we made it work and I was eighth quick in my group. We won our heat race, which put us in the dash and we rolled out sixth for the feature. The car again was good and finished second."
"Unfortunately, the accusations of cheating are resurfacing," he said. "While we were in tech at Angell Park on the scales, we were given a verbal warning for the 'abnormal noise' produced by my foot."
The Travis Arenz Motorsports team is set to compete in an out-of-state IRA doubleheader weekend, firing up on Friday, Aug. 25 at 34 Raceway in West Burlington, Iowa. The Mini Hauler and Vintage Modified divisions are also on the card.
Pit gates open at 4 p.m. with spectator gates opening at 5 p.m., followed by hot laps at 6:15 p.m. and racing at 7 p.m.
On Saturday, Aug. 26, the Travis Arenz Motorsports team will make its first appearance at Federated Auto Parts I-55 Raceway in Pevely, Mo. as part of a Bumper to Bumper Interstate Racing Association (IRA) – Midwest Open Wheel Association (MOWA) co-sanctioned 410 Sprint Car event. DIRTcar Late Models, DIRTcar Pro Modifieds and DIRTcar Sport Compacts will also be in action.
Pit gates open at 4 p.m. with spectator gates opening at 5 p.m., hot laps at 6 p.m. and racing at 7 p.m.
"I am looking forward to going back to 34 Raceway," Arenz said. "I'm hoping to have a better outcome than last time. I am always excited to be able to compete at tracks I have never raced at before, like I-55 this weekend. I'm hoping we have good results, as well."
All 2023 Bumper to Bumper Interstate Racing Association 410 Sprint Car Series events will be streamed live on FloRacing.
The 2023 Travis Arenz Motorsports sponsorship partners include Professional Plating Inc., Service One Transportation, Inc, Don and Lynn Kiel, Oostburg Concrete, Lakeshore Family Funeral Homes, Schoen's Wildlife Removal, Premier Insurance Solutions-Craig Ladwig, Pallet Works, DW Fence, Little Bears Tree Service LLC, Lake Auto Glass and Service, Myhre Construction LLC, Roth's Auto Restoration, Hair Fellers Barbershop, Fastenal of Plymouth, Jensen Sales and Humphrey's Turner Hall Bar & Grill, Carbliss Hand Crafted Cocktails, Amy Bruechert Reality, Cornwell Tools-Paul Epping, Advanced Engine Concepts, Inc., Duehring's Tax Service, Everhope Show Cattle, HRP Wings and Behling Racing Equipment.
The 2023 Travis Arenz Motorsports team consists of pit crew members Greg Piedot, Jerrod Gamb, Emily Stadler, Cameron Fritz, Bobby Bonelli and Trevor Hittman (public relations).
Additional information on the Travis Arenz Motorsports team can be found by visiting the team's Facebook and Twitter pages.
Travis Arenz Motorsports Sponsor Showcase – Hair Fellers Barbershop
Travis Arenz Motorsports is proud to have Hair Fellers Barbershop on board as a sponsorship partner for the team's rookie season of competition with the Bumper to Bumper Interstate Racing Association 410 Sprint Car Series in 2023.
Owned and operated by Ann Lange, Hair Fellers Barbershop is located at 622 Madison Ave. in Howards Grove, Wis.
To learn more or to make an appointment, call 920-254-5198 or visit Hair Fellers Barbershop on Facebook and Instagram.
Pedal Down Promotions is a full-service public relations and media services company devoted to helping its clients effectively communicate with targeted audiences through press releases, newsletters, profile and feature articles, website and social media content development, printed media, editing and layout, graphic design and book publishing services.
For more information on Pedal Down Promotions, email pedaldownpromotions@gmail.com, visit www.pedaldownpromo.com or call 920-323-7970.m
Travis Arenz Motorsports
Upcoming 2023 Schedule
Friday, August 25 – 34 Raceway, West Burlington, Iowa (IRA)
Saturday, August 26 – Federated Auto Parts I-55 Raceway, Mo. (IRA-MOWA)
Friday, Sept. 1 – Dodge County Fairgrounds Speedway, Beaver Dam, Wis. (IRA)
Saturday, Sept. 2 – Plymouth Dirt Track, Plymouth, Wis. (IRA)
Travis Arenz Motorsports
410 Sprint Car
2023 Season
By The Numbers
Total Events – 22
IRA Events – 21
All Star Events – 3
A Main Victories – 1
Top Five A Main Finishes – 10
Top 10 A Main Finishes – 12
Top 15 A Main Finishes – 16
Top 20 A Main Finishes – 17
Heat Race Victories – 3
B Main Victories – 0
Dash Appearances – 5
Dash Victories – 1
Fast Qualifier Awards – 0
Travis Arenz Motorsports
360 Sprint Car
2023 Season
By The Numbers
Total MSA-PDTR Events – 2
A Main Victories – 0
Top Five A Main Finishes – 0
Top 10 A Main Finishes – 0
Heat Race Victories – 0
B Main Victories – 1
Fast Qualifier Awards – 0
---
Article Credit: Jeff Pederson-Pedal Down Promotions
Submitted By: Jeff Pederson
Back to News